During your strolls along the beach you have probably already seen these new nautical activities that decidedly have the wind in their sails. Jet skiing, towed buoys and water skiing… there are many activities to choose from. Among them, parasailing is the one that offers the best combination of the pleasure of a magnificent view with exceptional sensations.
But what exactly is parasailing?
Parasailing is an increasingly popular activity along the French coasts. It is quite a unique experience consisting of parachuting without ever falling. The principle is in fact quite simple. Users are attached to a large sail on their backs. This is connected by a cable and a winch to a boat whose speed causes the participants to accelerate.
This mechanically propels them into the air without the slightest effort. The activity is totally safe because you are continuously connected to the motor boat and requires no athletic effort. It is ideal for those persons looking for thrills in total safety.
Depending on your skill, you can reach several dozen metres in height, offering you a view of the sea from a new perspective and an opportunity to see the surrounding landscape. In a setting like the city of Nice, for example, or the French Riviera in general, the activity provides a wonderful opportunity. You can book a parasailing flight in Nice with Nikaia Watersport for one, two or three persons.
How long does a flight last?
A parasailing flight lasts between 10 and 15 minutes during which you are really in the sky being towed by the boat and free to discover the surroundings and enjoy the thrills. Depending on the conditions and the organiser of the activity, the flight may last a little longer.
Generally speaking, 15 minutes is the upper limit. Even if parasailing is a nautical activity that is open to all, even non-athletes, it nevertheless procures strong sensations. Totally free at an altitude of 60 metres, your heart begins to beat very quickly and therefore you cannot spend too much time in the air.
In addition to the question of the duration of the flight, you should not forget to take into account the time necessary for you to recover. You should keep this activity in mind from the moment you wake up with a muscular warm-up and a hearty breakfast. You should also arrive early, following the organiser's instructions, to properly equip yourself.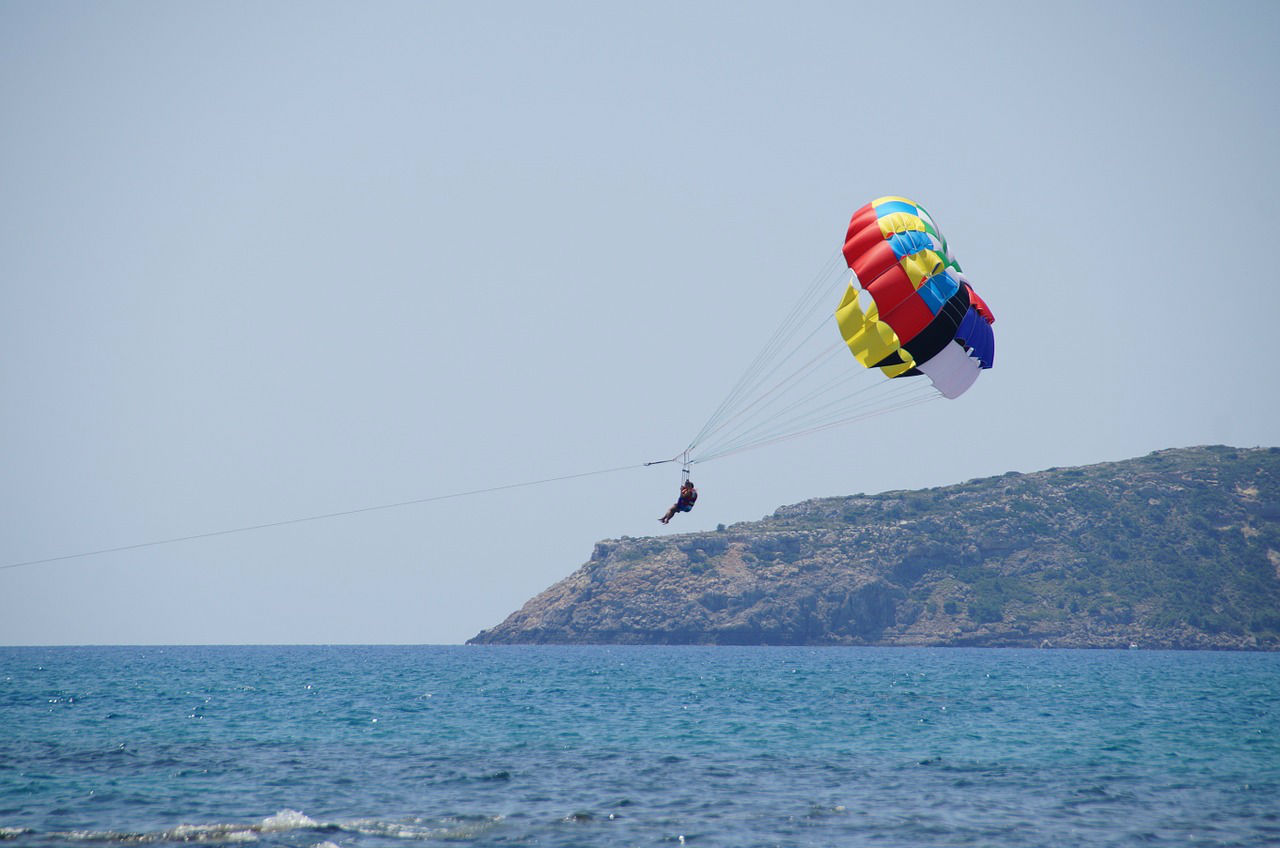 How much does it cost?
The price of a parasailing flight varies from one company to another, and may also vary according to the season and the time of day you have chosen to enjoy this experience.
So, you should count on around 50 euros for a solo flight in Nice. If you want to share this experience in tandem, allow for between 60 and 70 euros per flight. You will be supervised by an instructor, who will explain the activity and the safety instructions, and then you will be equipped with everything necessary to experience these new sensations.
An activity of this type may very well be offered in a company gift box or as an activity during a stag or hen party. Whether the flight is booked with a ticket or offered in a gift box, it is always the weather conditions that have the last word, both for your safety and to offer you the best time in the air.
Other options for the less adventurous
A magnificent setting like the Bay of Angels in Nice enables you to experience an exceptional tandem parasailing flight. And if you are looking for thrills but heights don't appeal to you, there are other solutions.
Jet skiing, water skiing, towed buoys and tubes will all take you over the waves at top speed, in total safety and in a wonderful Mediterranean setting. And if you are not attracted by thrills, there is still a wide range of things to do, including paddle boarding, kayaking, canoeing, sailing or any other water activity at similar prices and for a duration that varies according to the activity. The landscape of Nice and its surroundings is sufficiently magical for you not to regret parasailing and to fully appreciate the panorama from sea level.